Breakfast Menu
Served From 8:00am – 11:00am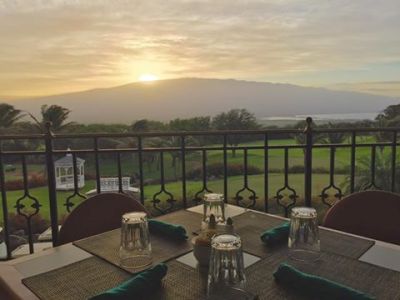 9

PANCAKES

Served with banana & macadamia nuts

9

FRENCH TOAST

Hawaiian sweet bread with seasonal berries

12

MONTE CRISTO SANDWICH

Grilled Hawaiian sweet bread, fried ham, Applewood Smoked Bacon with Swiss Cheese. Served with jelly.

12

ASIAN PORK AND SHRIMP FRIED RICE

Served with a cup of broth.

12

KŪLOKO MOCO*

With a choice of 8oz Maui Cattle burger or Kalua Pork over steamed white rice. Smothered with gravy and topped with two eggs, any style.

13

2 EGGS ANY STYLE*

Choice of Apple Wood smoked bacon, ham or Portuguese sausage.

13

OMELET

3 eggs with your choice of 3 toppings: cheddar cheese, bacon, Portuguese sausage, ham, spinach, mushrooms, onions, scallions, avocado (avocado upon availability)

18

STEAK AND EGGS 8OZ.*

Maui Cattle top sirloin steak with 2 eggs any style

14

KŪLOKO FRITTATA

Spinach, sweet onion, diced potatoes and goat cheese
Enjoy the sunrise over Haleakala while having  breakfast on the terrace at Kahili Restaurant.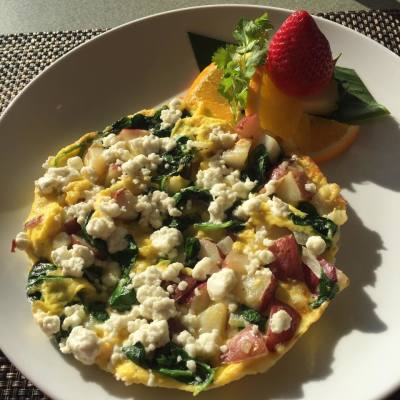 Kuloko Frittata with spinach, sweet onion, diced potatoes and goat cheese.
​​
PUPUS
Served From 11:00am - 3:00pM
​​

18

FRESH AHI POKE SALAD*

with Napa cabbage, avocado, crispy wontons & scallions.

16

SEAFOOD SAMPLER

Deep fried oysters, calamari rings and tentacles, coconut shrimp and sweet potato fries.

12

CRAB CAKES (4PC)

Panko crusted and served with citrus aioli.

11

COCONUT BREADED SHRIMP (6PC)

Crispy coconut bread shrimp served with sweet Thai chili sauce.

16

SPICY SAUTÉED KAUAI SHRIMP (4PC)

Whole shrimp sautéed in garlic, topped with sriracha aioli and fruit salsa.

9

SHANGHAI LUMPIA (6PC)

Served with sweet chili dipping sauce.

14

MEDITERRANEAN HUMMUS PLATTER

Served with pita chips, fresh carrots, cucumbers, celery, tomatoes and olives.

17

BEEF STEAK POKE*

Grilled local grown beef with tomato, sweet Maui onions and scallions.

6

SWEET POTATO FRIES

with cilantro aioli

8

ONION RINGS

with guava bbq sauce

9

KARAAGE CALAMARI

with Thai sweet chili aioli.
Served From 11:00am - 3:00pm
9

GROWN ON MAUI FIELD GREENS

Served with cucumber, tomatoes, shaved onions and lilikoi vinaigrette.

14

GROWN ON MAUI FIELD GREENS

WITH CHICKEN

18

GROWN ON MAUI FIELD GREENS

WITH SHRIMP OR SEARED AHI

12

ASIAN CHICKEN SALAD

Kumu Farm baby greens, oriental noodles, sugar snap peas and hoisin chicken.

9

CAESAR SALAD

Crisp romaine lettuce tossed with creamy Caesar dressing, grated parmesan

14

CAESAR SALAD

WITH CHICKEN

18

CAESAR SALAD

WITH SHRIMP OR SEARED AHI*

7

SOUP

Chef's daily creation.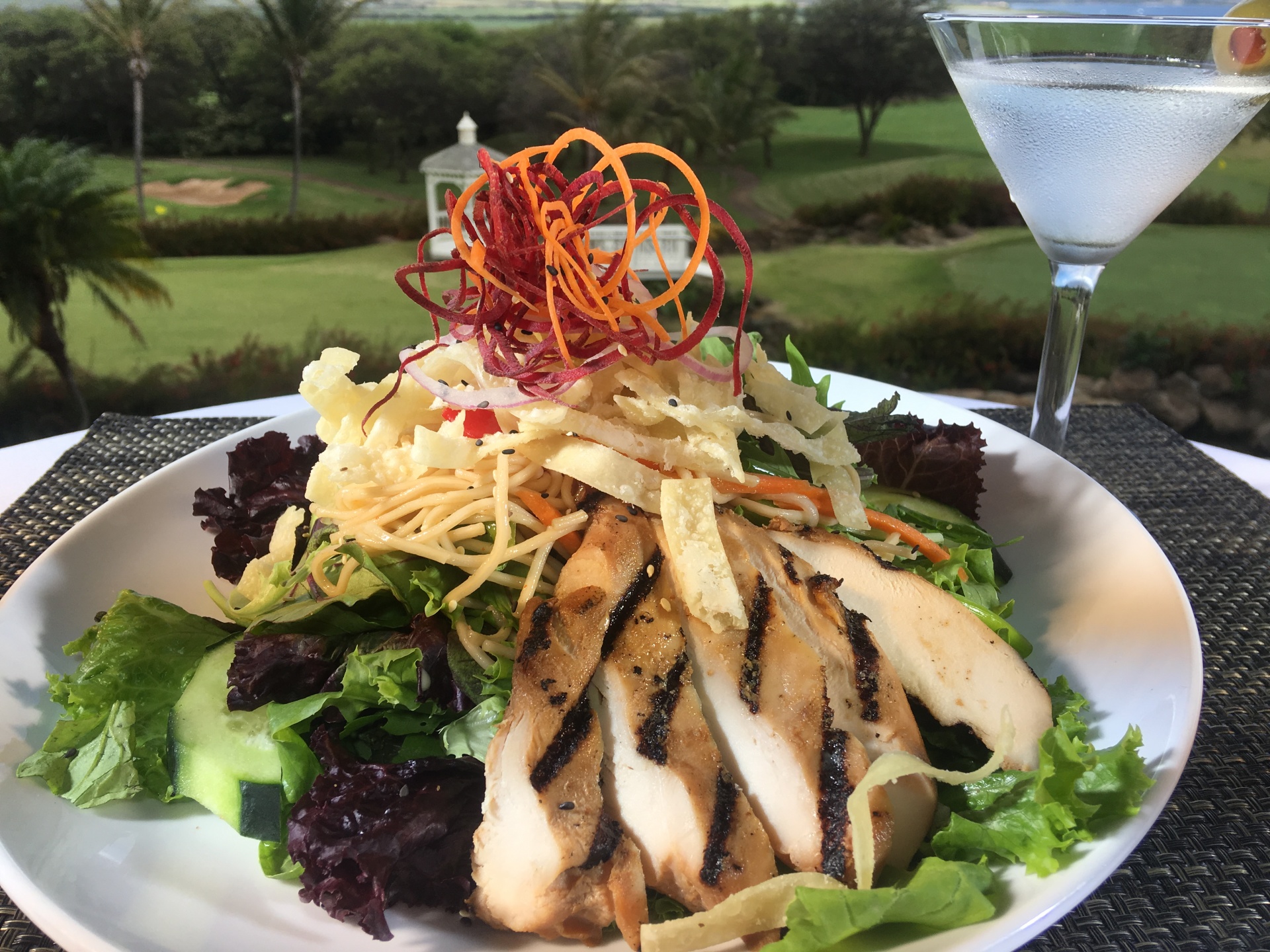 Asian Chicken Salad 

Enjoy our Asian Chicken Salad. Served on a bed farm grown Kumu Farms baby greens, topped with oriental noodles, and garnished with grilled chicken and sugar snap peas. Served with Chef Eddie's asian dressing, this salad makes the perfect meal after your day of golf!

​

​​
Sandwiches
Served with French Fries or Caesar Salad
​​

12

TURKEY AVOCADO SANDWICH

Oven roasted turkey breast on ciabatta bread.

12

MAUI CATTLE BURGER*

Grass fed Maui beef grilled to your liking with lettuce, tomato and onions on an onion bun

16

FRESH OFF THE BOAT FISH SANDWICH*

Grilled with lettuce, tomato, onions, tartar sauce on whole wheat bun.

11

KALUA PUA'A SANDWICH

With guava bbq sauce on taro bun.

14

VEGETABLE WRAP

Grilled eggplant, zucchini, red bell peppers, onions, fresh mozzarella cheese, drizzled with basil vinaigrette on grilled flat bread

11

TRADITIONAL REUBEN SANDWICH

Slices of corned beef, sauerkraut and swiss cheese on grilled rye bread.

17

PRIME RIB FRENCH DIP*

Thin slices of beef on Dutch crunch hoagie bread with au jus.
Served From 11:00am - 3:00pm
20

KAUAI SHRIMP LINGUINE

Herb sautéed shrimp with Chardonnay cream sauce and capers served with garlic bread.

MARKET PRICE

FRESH CATCH

Fresh fish caught off Maui Coast.

14

FISH N CHIPS

Maui brewed beer battered Mahimahi with tartar sauce and french fries.

14

CASHEW CHICKEN

Wok stir-fried chicken strips tossed with fresh Kula vegetables, cashew nuts and oyster sauce. Served over Ramen noodles.

12

SAIMIN

Ramen noodles with roasted pork, fish cake, fried eggs, gyoza and Chinese cabbage in a tasty broth, garnished with scallions.

13

ORIENTAL STIR-FRIED NOODLES

Wok fried noodles and vegetables with kalua pork, accompanied with pickled ginger.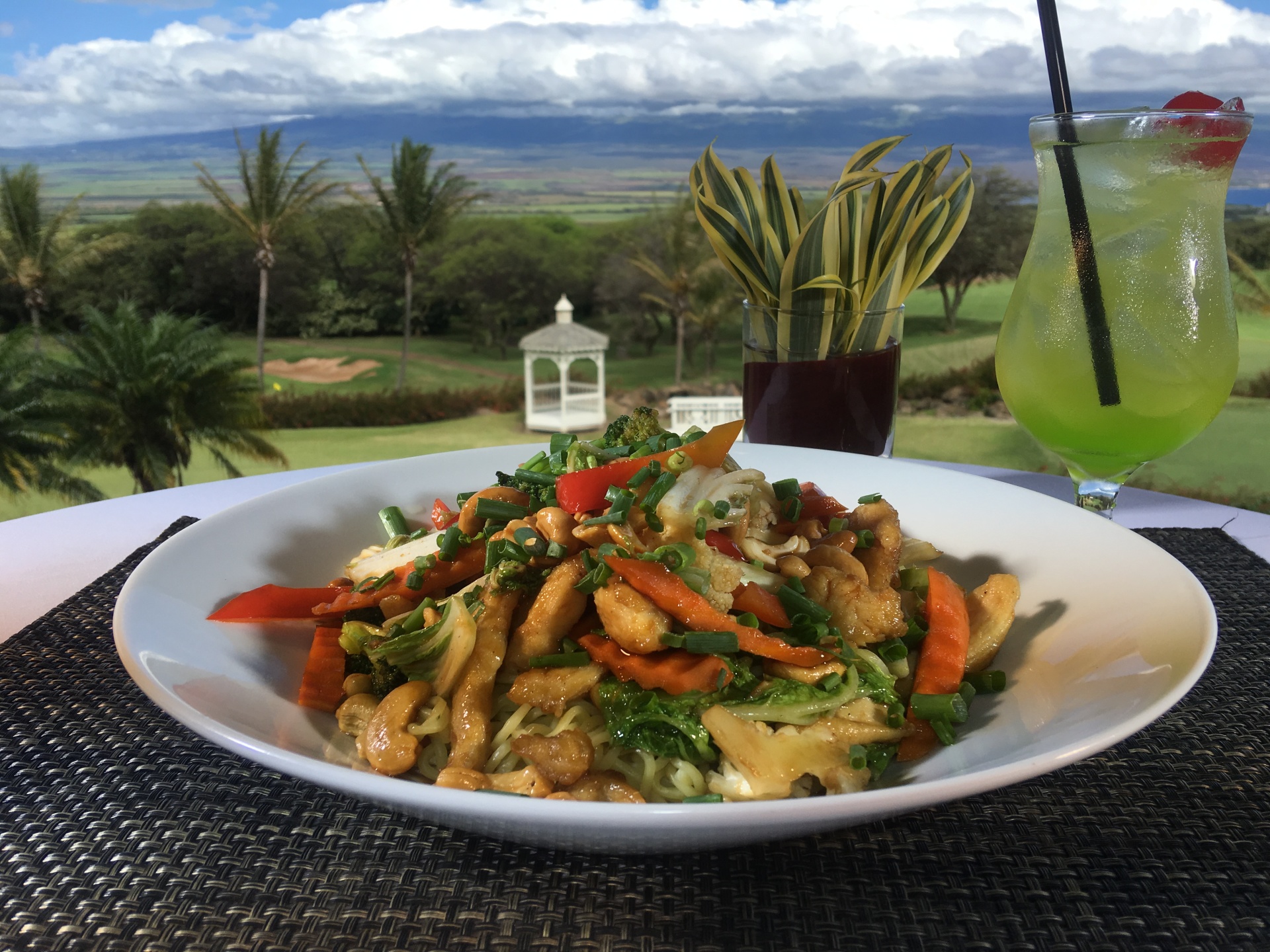 ​​
Keiki Menu For children 12 years & under
Served with French Fries and a Beverage
​​

6.95

GRILLED HAM & CHEESE SANDWICH

6.95

PEANUT BUTTER AND JELLY SANDWICH

6.95

TURKEY OR TUNA SANDWICH
7

CRISPY BANANA LUMPIA

Served with vanilla, chocolate, Kona coffee or macadamia nut ice cream.

6

APPLE PIE ALA MODE

Served with vanilla ice cream.

6

HOMEMADE MUD PIE

Oreo cookie crust with Kona Coffee ice cream filling, dark chocolate syrup and a generous topping of whipped cream.
*Reminder: Consuming raw or undercooked meats, poultry, seafood, shellfish or eggs may increase your risk of food borne illness, especially if you have certain medical conditions.
$10

Add your dish title

Enter the dish description here.

$10

Add your dish title

Enter the dish description here.

$10

Add your dish title

Enter the dish description here.

$15

Add your dish title

Enter the dish description here.